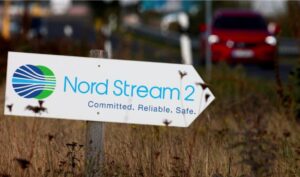 U.S. Secretary of State Antony Blinken said on Wednesday he had told his German counterpart that sanctions against the Nord Stream 2 natural gas pipeline were a real possibility and there was "no ambiguity" in American opposition to its construction.
Berlin has so far been betting the new U.S. administration of President Joe Biden will take a pragmatic approach to the project to ship Russian gas to Europe because it is almost completed, officials and diplomats have told Reuters.
"I made clear that firms engaged in pipeline construction risk U.S. sanctions. The pipeline divides Europe, it exposes Ukraine and central Europe to Russian manipulation and coercion, it goes against Europe's own stated energy goals," Blinken told a news conference.
The Kremlin says Nord Stream 2, a $11 billion venture led by Russian state energy company Gazprom, is a commercial project, but several U.S. administrations have opposed the project and Europe has vowed to reduce its reliance on Russian energy.
The United States and eastern European Union countries such as Poland say Nord Stream 2 is part of Russian economic and political measures to manipulate European countries and undermine transatlantic ties.
"What I said (to Maas) was that we will continue to monitor activity to complete or certify the pipeline and if that activity takes place, we will make a determination on the applicability of sanctions," Blinken said.
He said it was important to carry the message directly to Maas, "just to make clear our position and to make sure there is no ambiguity." Reuters