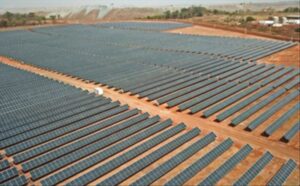 Suntrace GmbH and BayWa re, together with B2Gold, have completed commissioning of what they say is the world's largest off-grid solar-battery hybrid system for the mining industry at the Fekola gold mine in Mali.
The solar-battery hybrid plant was integrated and commissioned successfully with the existing power plant operation, with the solar plant on course to be 100% complete by the end of June.
The integration of the solar power plant with the battery system will ensure safe and reliable power, saving 13.1 million litres of heavy fuel oil a year. The photovoltaic-battery system will help to reduce CO2 emissions by 39 000 t/y, according to the company.
Thorsten Althaus, Project Manager at BayWa re, added: "Integrating such a large amount of solar into a small, isolated grid safely and reliably has been a major technical challenge and required the use of battery storage as well as a tailor-made control system. This was conceptualised in the early stages of the project and we ensured that our vision was implemented accordingly by the suppliers. It is extremely rewarding to see how well this solution performs in reality and shows that the technology works and is just waiting to be applied on further projects." World-Energy