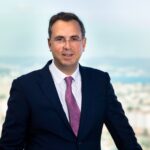 He began his career in 1998 as a financial analyst in the New York office of the Merger and Acquisition Group of Bear Stearns & Co., a New York-based global investment bank and transferred to the company's London office as a Senior Analyst in 2000.
He returned to Turkey in 2003 to take an active role in the management of FIBA Group, founded by his father Hüsnü Özyeğin. He established the Strategic Planning and Business Development divisions at Finansbank (owned by FIBA Group until 2005) and FIBA Holding.
Before assuming the role of Chairman of FIBA Group, Murat Özyeğin served as a member of the Board of Directors between 2003-2019. He is also Vice Chairman of Credit Europe Bank, the group's largest subsidiary in finance and Chairman of all non-financial subsidiaries.
Murat Özyeğin also serves as Vice President of the Turkish Industrialists and Businessmen Association (TÜSİAD), President of DEIK/Turkey-The Netherlands Business Council, Chairman of the Advisory Board of Women on Board Association Turkey, Vice President of Energy Efficiency Association, Trustee of Özyeğin University, Trustee of Hüsnü M. Özyeğin Foundation, member of Harvard University Global Advisory Board, member of Endeavor Board of Directors, Trustee of WWF Turkey and member of Global Relations Forum.
He has been serving as Honorary Consul – General of the Republic of Singapore since 2016.
He graduated Carnegie Mellon University with a double major in Industrial Management and Economics and holds an MBA from Harvard Business School.
He is 45 years old and has three children.