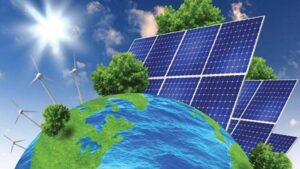 The global race to net-zero emissions has begun. But the world has much further to run.
The European Union, Japan, the UK and many other major world economies have set ambitious goals to reach net-zero emissions by 2050. China, the world's biggest emitter, is aiming to be carbon neutral before 2060. And US President Joe Biden announced the nation's return to the Paris Agreement and is putting the fight against climate change at the heart of his administration's goals.
Our recent analysis at the International Energy Agency shows that almost half of the emissions reductions needed to reach net zero by 2050 may need to come from technologies that haven't reached the market today.
It's true that solar panels, wind turbines, electric cars, lithium-ion batteries and other trail-blazing clean energy technologies have made it possible for us to seriously envision a net-zero world. But we won't be able to get there by 2050 without giant leaps in innovation in a range of other clean technologies — some of which are still in the lab. This is especially urgent in sectors like steel, cement, chemicals, shipping and aviation, where emissions are the hardest to reduce and cost-effective solutions are lagging behind.
Source: "IEA head: The world isn't moving fast enough on clean energy", CNN