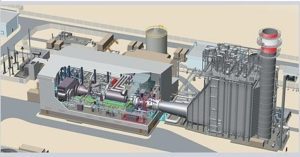 Natural gas is still often described as "the fuel of the future". If you are selling turbines for gas-fired power generation, it cannot feel that way. Sales of gas turbines have fallen sharply, under pressure from low-cost renewable energy, and are expected to remain weak for at least another couple of years.
While the market has been shrinking, it has also been becoming more competitive. For the largest and most advanced turbines, bought by utilities and other power producers, there are only three significant manufacturers: General Electric of the US, Siemens of Germany and Mitsubishi Hitachi Power Systems of Japan.
GE has for decades been the market leader, but this year MHPS, which is 65 per cent owned by Mitsubishi Heavy Industries and 35 per cent by Hitachi, has been having a run of success, reporting a 40 per cent market share in the first six months of 2018.
Lisa Davis, the Houston-based chief executive of Siemens' global energy division, said all the manufacturers were being squeezed. "In any business where you have excess supply and declining demand, competition inevitably increases," she said. "And when competition increases, we all have to sharpen up."  Financial Times