China is paying a high price for its unofficial ban on coal imports from Australia. The restrictions on imports from Australia came into effect in the second half of last year, resulting in China's imports dropping to virtually zero in the first two months of this year from a 2020 high of 9.46 million tonnes in June, according to Refinitiv vessel-tracking and port data.
U.S. coking coal is currently about $39 a tonne more expensive that supplies from Australia, and this doesn't account for the higher shipping costs given the longer distance from the U.S. east coast to China.
China's domestic coking coal price has also been gaining since the restrictions on imports from Australia. it does show that Chinese domestic prices have been pushed higher, partially reflecting the higher cost of imports from sources other than Australia.
Australia's share of imports came down to zero from 68.4% in January-February 2020, according to the data, while the United States boosted its share to 9.1% from under 2%, and Canada went to 12.1% from 6.1%.
Graphic 1 – China's Coking Coal Imports by Origin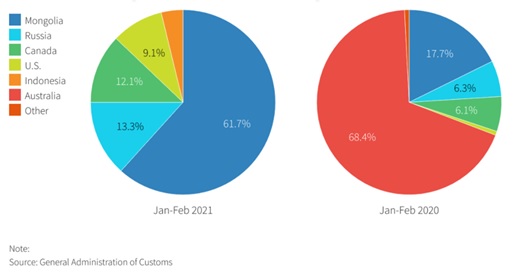 Source: "China is paying a high price for its ban on Australian coal", Reuters